It's that time of year! Christmas is right around the corner. When did time start flying? I swear my baby was just barely born and she's turning 18 mo in just a week!!
One of my favorite things is giving my kids gifts! A lot of times during the year I will grab something small if I see something one of them would love. With our big family our kids don't get many things beside Christmas and birthday's, or by earning money and saving for it themselves, even if we are the ones they are earning from! So giving them things they like and want is important to me. I know that they wait months for things sometimes! They give to me all year, sometimes it's not always positive, lol, but I love to give back to them when it's appropriate.
I can remember when my kids started getting older I was always a little lost as to what to gifts to get them. I have learned a lot over the years and perfected my gift giving game a little....I mean, a little is better than nothing! Ha! I like to think I've learned a few things and have some ideas that could help some of you new mommies, new big kid mommies, teen mommies, and even some ideas for those new adult kids. Here are also some ideas as well as ideas on how to budget for and keep track of that crazy Christmas list! It can be helpful to do even for extended family and friends lists!
Let's start with that list! One of the things that I do that really helps me give gifts my kids want and, even sometimes that they forget they wanted, is to keep a running note locked in my phone. When I get an idea, or they mention something offhandedly, I jot it in notes for gift ideas. I can reference back to it and get them something they'll really enjoy! It's saved me many a birthday's and Christmas' with 7 kids to buy gifts for. It can get confusing and a little nuts to try and figure out what I should buy, what I've bought, and how many gifts for each kid I've already purchased. So, I make a little a bubble next to each thing item after I've purchased it. It helps keep me organized and on top of what each kid is receiving, how many I've gotten each of them. After I've wrapped all of them I check mark them on the list and after make sure we have everything we've ordered and everything is even I go ahead and delete them. It makes keeping our Christmas list organized and making sure each kid has an even number of gifts under the tree a lot more simple. We usually buy 4 per kid keeping their total under a predetermined amount per child. Older kids get a little higher budget than we set for the younger ones. I started doing this a few years ago and it's been a super simple way to keep track.
Hopefully, some of my trial and error and my old favorites will help those of you that are drawing a blank this year. Happy shopping!
Those babies! Birth-1 year
I don't tend to spend a lot for the tiny ones. I also look for things that are helpful to their care or that they need. Always with the clothes for those infants, they grow out of everything so fast!!
For Stocking stuffers I suggest, depending on where they are age wise: baby spoons, sippy cup, small teething toys, baby/toddler snacks like Puffs, extra pacifiers, baby juice, soft stuffed animals
Here's some of my favs! Click on the pic to be sent to the link!
My little one LOVED this! She got one
last Christmas and put it to good use!
Some of my favorite places for infant clothing:
Old Navy
Target
H&M
This is when it really starts to get fun!! I love buying them things that they personally enjoy. Our youngest LOVES books so she'll definitely be getting some this year. She also loves anything animal related so stuffed animals are a favorite. We've had past kids who've loved babies, some who've
loved balls, trains, cars, kitchen play....well you get my idea! I love buying them what they enjoy. One thing I've learned having so many? Don't go crazy buying cheap toys! There is no point in buying something to just throw it away a few months later. I love going for more quality, less quantity and I really like Fischer Price toys! Especially their Little People sets! If you take care of them they last forever! We had the dollhouse since my oldest was 1 year old, 20 years ago, and I just barely decided to upgrade to the newer set this year for one of our little lady's upcoming Christmas Presents.
Can you go wrong
with cabbage patch kids??
Those middle aged kids 4-12
This age group is SO fun to shop for. They are usually one of my longest lists in my gift ideas. Maybe because everything they see they ask for, haha! I also like to gear it toward personality as I'm sure most you parents do as well. Lego's are a favorite for my kids of this age group and with so dang many sets, you can personalize them to whatever your child is super into! We've done Princesses, Harry Potter, Lord of the rings, Star Wars, Pirates of the Caribbean, Toy story, super heroes, and of course their Friends sets and City sets galore! These can be pricey but my kids ask year after year. I had to learn that eventually all the pieces end up in one big box where they eventually become whatever a child wants them to be instead of being built into the set they were designed for, but imagination!!! It developed my older boys love of building and they still enjoy building World War I sets they design and develop themselves. Just watch your bare feet!
This age group seems to also love video games. I always keep an idea of the ones they've begged us to buy on my gift list. Sporting equipment is a great idea for those kids who love to be active or if you live in a winter climate, sleds are also a fun idea!!
My girls love anything Barbie, Lego Friends and LOL dolls are a huge thing these days! My little pony and American Girl Dolls and accessories are also favorites. Wal-mart and Target both have their own version of "American Girl Dolls" including clothing, accessories and furniture for a fraction of the cost!
Stocking ideas for this crowd: Well candy, duh! Nail polish, stickers, coloring books and art supplies, Lego mini figures, Lip gloss, their favorite cereal, gloves, fun socks and little notebooks, and of course Beenieboos!
Here are some of my Favs!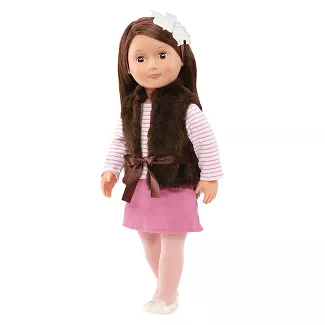 Tweens/teens/New adult kids (I mean they're basically still teens)
This is a fun age for gift giving! Clothing and accessories become a fun thing for them to receive! Girls love to start collecting all fun things make-up and nail polish. I've had kids into art who loved getting paints, easel and canvas and some who loved sketching sets. Sports equipment is also still a great idea! Jewelry, bags, winter hats, scarves and gloves and scented body sprays and lotions are great for those girls. Gift cards are a great idea for this age if they want to go shopping for their own clothing or have asked for somewhere specific. One thing I still love buying for my older boys is Architecture Legos. That way they still have something fun to do on Christmas they still like and can display them in their room.
These are all things I've purchased for my own kids in this age group for both birthdays or Christmas and things that are re-asked for over and over!
Stocking ideas: Gift cards to fast food restaurants or gas station cards for gas or drinks and treats. Key chains, nail clipper since they seem to disappear into thin air around here. Scissors, tape, etc. because in this family none of us older people can ever seem to find them thanks to the younger kids! Chapstick, lotion, tissues, car air fresheners.
I also skip out on the christmas candy aisle and give their favorite candy to them instead along with their favorite soda, chips, cookies or snacks. My older kids really don't eat a whole stocking full of Christmas treats and appreciate these much more.
My favorite's for this age:
My kids favorite stores for gift cards:
Nike
Target
H&M
Lids
Adidas
Any local malls have gift cards as well, or Visa or MasterCard!
Thanks so much for stopping by! I hope some of my tried and trues have helped you. If you have any questions or want to ask for a suggestion, E-mail me!!! I'd love to hear from you! Merry Christmas and happy shopping!
Love, Mykin
Follow me on Instagram @mcewanfam for more of our family craziness! or my page on Facebook Mykin Butler McEwan